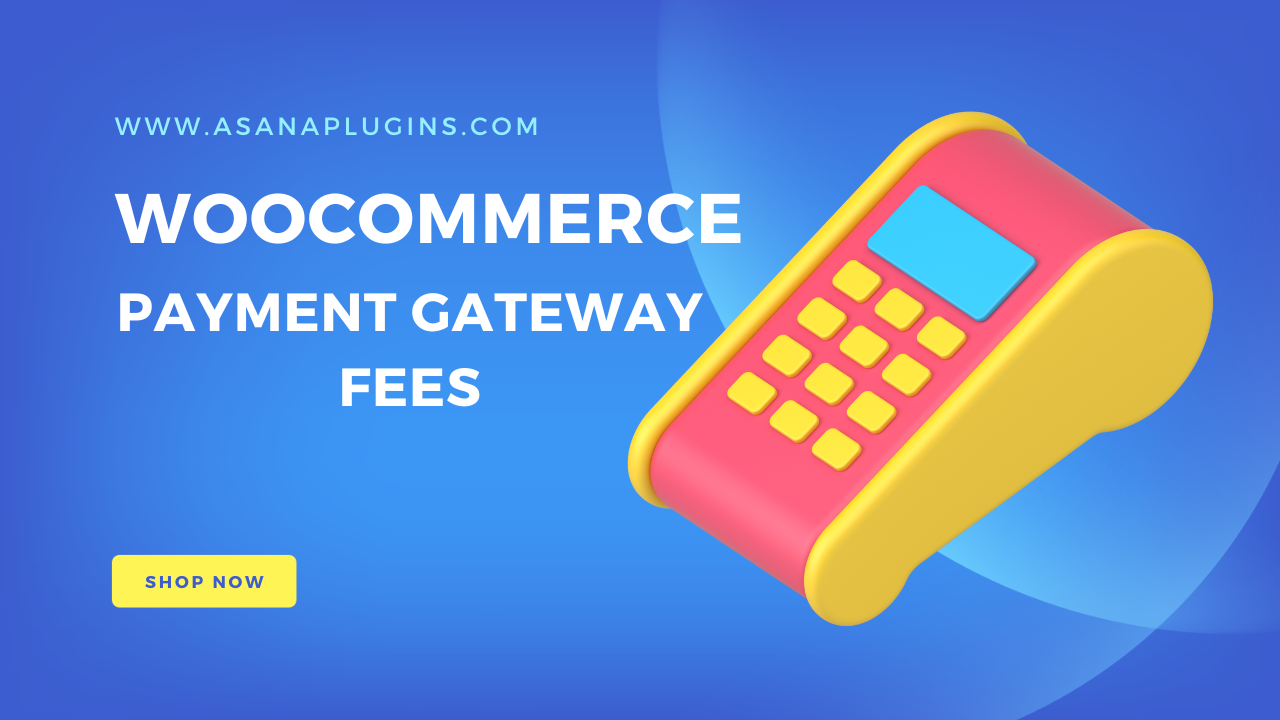 When it comes to running an online store, one of the critical considerations is setting up a reliable and efficient payment system. WooCommerce, a popular e-commerce platform built on WordPress, offers a diverse range of payment gateways that enable businesses to process online transactions seamlessly. However, it's important for merchants to be aware of the associated costs and fees that come with using these payment gateways. In this article, we will delve into the world of WooCommerce payment gateway fees, shedding light on their significance, types, and factors that influence them. Understanding these fees is crucial for e-commerce entrepreneurs and store owners as it allows them to make informed decisions about their payment processing infrastructure, optimize costs, and ultimately maximize profitability.
We will explore the various aspects related to WooCommerce payment gateway fees, including transaction fees, recurring fees, setup costs, and additional charges that might be incurred during the payment process. By gaining a comprehensive understanding of these fees, readers will be equipped with the knowledge needed to evaluate different payment gateway options and choose the one that aligns with their business requirements and budget.
Moreover, we will discuss the factors that influence payment gateway fees, such as the chosen payment provider, transaction volume, geographical considerations, and the type of products or services being sold. By understanding these factors, entrepreneurs can assess the potential impact of payment gateway fees on their overall business operations and profitability.
Whether you're just starting your online store or looking to optimize your existing payment infrastructure, this article will serve as a valuable guide to demystify WooCommerce payment gateway fees. By the end, you'll have a solid foundation of knowledge to make informed decisions and navigate the complex landscape of payment processing, ensuring a seamless and cost-effective experience for both you and your customers.
What is a Payment Gateway or Payment Method
A payment gateway, also known as a payment method, is a crucial component in conducting online transactions. It refers to the various channels or systems that facilitate the transfer of funds between customers and merchants securely. A payment method serves as the intermediary between the customer's financial institution and the merchant's bank account, ensuring that transactions are processed smoothly and securely. Examples of popular payment methods include credit cards, debit cards, digital wallets like PayPal or Apple Pay, bank transfers, and cryptocurrency. Each payment method has its own set of features, advantages, and security protocols, allowing customers to choose their preferred option based on convenience and trust. Merchants need to integrate and support multiple payment methods to cater to a wider range of customer preferences, ultimately enhancing the overall user experience and facilitating successful online transactions.
Why Create a Payment Gateway Fee
Creating a payment gateway fee for your e-commerce business offers a range of benefits that can positively impact your bottom line and overall customer experience. Let's explore some of these advantages:
Benefits
Revenue Generation: Implementing a payment gateway fee allows you to generate additional revenue streams. By charging a small fee for each transaction, you can offset the costs associated with payment processing and enhance your profitability.
Cost Recovery: Payment gateway fees can help you recover the expenses incurred in setting up and maintaining a secure and reliable payment infrastructure. These costs may include integration and development fees, compliance and security measures, and ongoing technical support.
Flexibility in Pricing: With a payment gateway fee, you have the flexibility to adjust your product prices accordingly. By factoring in the fee, you can maintain competitive pricing while still covering your operational costs.
Fraud Prevention: Payment gateway fees can act as a deterrent to potential fraudulent transactions. By imposing a fee, you create a barrier that discourages malicious actors, safeguarding your business against fraudulent activities and chargebacks.
Enhanced Security: Implementing a payment gateway fee often means partnering with reputable payment providers that offer robust security measures. This ensures that your customers' payment information is protected, instilling trust and confidence in your brand.
Customer Support: Many payment gateway providers offer dedicated customer support services. By availing yourself of these resources, you can resolve payment-related issues promptly, providing a seamless and positive experience for your customers.
Integration and Compatibility: Payment gateway fees are often associated with widely used and trusted payment processors. This compatibility allows for easy integration with various e-commerce platforms, including WooCommerce, ensuring smooth and efficient payment processing for your customers.
Which Payment Gateways are Available in WooCommerce
WooCommerce, a versatile e-commerce platform, offers a diverse range of payment methods to cater to customers' preferences. With its extensive integration options, merchants can provide a seamless and secure checkout experience. Some of the popular payment methods available in WooCommerce include:
List of available payment methods
Credit and Debit Cards: Customers can conveniently make payments using major credit cards such as Visa, Mastercard, American Express, and Discover, ensuring broad acceptance.
Digital Wallets: WooCommerce supports widely used digital wallets like PayPal, Apple Pay, Google Pay, and Amazon Pay. Customers can securely complete transactions using their stored payment information and enjoy a frictionless checkout experience.
Bank Transfers: WooCommerce integrates with payment gateways like Stripe, which allows customers to make payments directly from their bank accounts. Direct Bank Transfer (BACS) and Faster Payments Service (FPS) are also available for secure and reliable bank transfers.
Cash on Delivery (COD): WooCommerce provides the option for customers to pay in cash upon delivery, offering convenience and flexibility.
Cryptocurrency: For merchants embracing digital currencies, WooCommerce integrates with cryptocurrency payment gateways like BitPay or Coinbase Commerce. Customers can make payments using popular cryptocurrencies such as Bitcoin or Ethereum.
Offline Payment Methods: WooCommerce accommodates offline payment methods such as checks or money orders, enabling customers to complete transactions manually.
Additionally, WooCommerce offers integration with other popular payment gateways like Stripe, which allows merchants to accept payments from various credit and debit cards, as well as digital wallets like Apple Pay and Google Pay. By leveraging these diverse payment methods, merchants can cater to a broader customer base and provide a seamless checkout experience, ultimately enhancing customer satisfaction and driving sales.
How to Add a Payment Gateway in WooCommerce
To add a payment method to WooCommerce, navigate to WooCommerce > Settings > Payments to see all of the available payment methods.
Here you can Enable/Disable the payment methods that you want.
To access a specific payment method settings, you can click on its name or click on the setup button on the right side.
At the bottom of the table, you can discover more payment methods and add them to your website.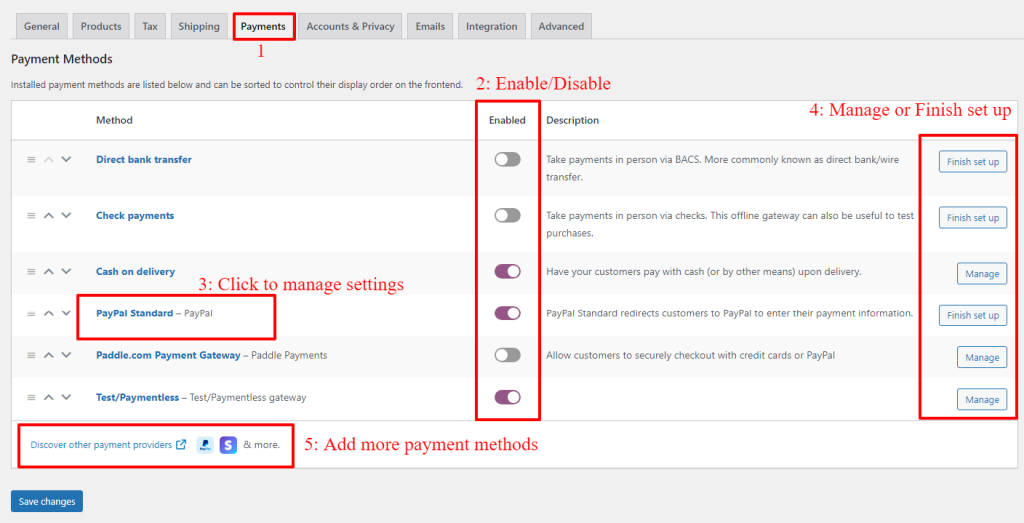 How to Create a Payment Gateway Fee in WooCommerce
Discount Rules and Dynamic Pricing for WooCommerce is a great plugin for creating advanced checkout fees and discounts. We will use this plugin to create a payment gateway fee in WooCommerce.
Time needed: 2 minutes
To create a payment gateway fee in WooCommerce follow the below steps.
Navigate to the "Woo Pricing & Discounts" menu, then open the "Checkout Fees" tab.
Click on the Add New button to create a new checkout fee rule.
Set a unique name for the rule, e.g. "Paypal Fee". It will be shown as the fee name.
Set a value for the fee. e.g. 10 to provide a 10% fee.

Under "Conditions" add a "Payment Method" condition and select the payment gateways.

In this example, we selected the "Paypal Standard" payment method to apply the checkout fee to it.

Save the rule.
It is done and the checkout fee applies to the cart when the customer chooses one of the selected payment gateways.

Because we applied the checkout fee on "Paypal", the checkout fee applies to the cart successfully.

Minimum Order Amount Fee
Payment gateways play a crucial role in facilitating online transactions for businesses. To ensure a seamless and cost-effective payment process, some payment gateways impose a minimum order amount fee. This fee is typically charged when a customer's order falls below a specified minimum threshold. While this fee may initially seem like an inconvenience, it serves several important purposes.
First and foremost, the minimum order amount fee helps businesses cover the costs associated with processing small transactions. Payment gateways incur various charges, such as transaction fees, interchange fees, and operational costs. By implementing a minimum order amount fee, businesses can offset these expenses and maintain profitability, especially when processing low-value transactions.
Additionally, the minimum order amount fee encourages customers to increase their order value. By setting a minimum threshold, businesses incentivize customers to add more items to their cart, ultimately boosting the average order value. This not only enhances revenue but also improves operational efficiency by reducing the proportionate transaction fees and administrative costs per order.
Create a minimum order amount fee
To create a minimum order amount fee in WooCommerce, follow the below steps.
Navigate to the "Woo Pricing & Discounts" menu, then open the "Checkout Fees" tab.
Click on the Add New button to create a new checkout fee rule.
Set a unique name for the rule, e.g. "Min order fee". It will be shown as the fee name.
Select the "Fee type" based on your requirements. e.g. "Price Fee".
Set a value for the discount. e.g. 5 to provide a 5$ fee.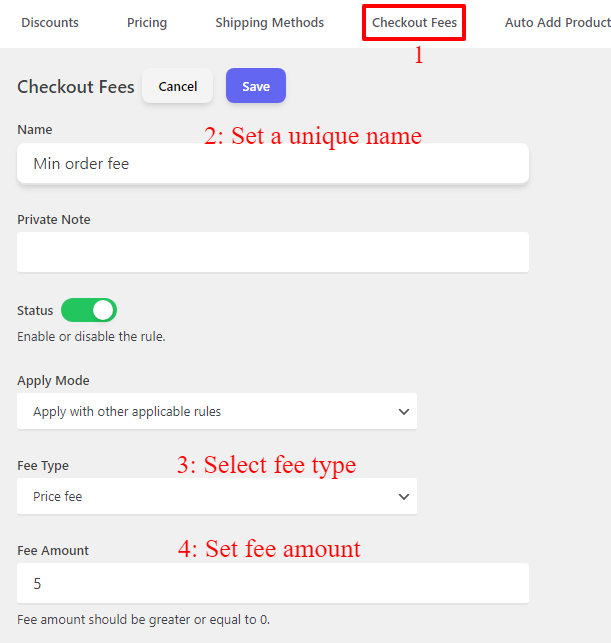 Under "Conditions" add a "Payment method" condition and select the payment methods that will get the fee. Here we selected "Cash on delivery".
Add a "Subtotal excluding tax" or "Subtotal including tax" condition and set its associated values. For example, add this fee when the order amount is less or equal to 100$.
Save the rule.

Because the cart subtotal is less than 100$ and the payment method is Cash on Delivery a minimum order fee is applied to the cart successfully.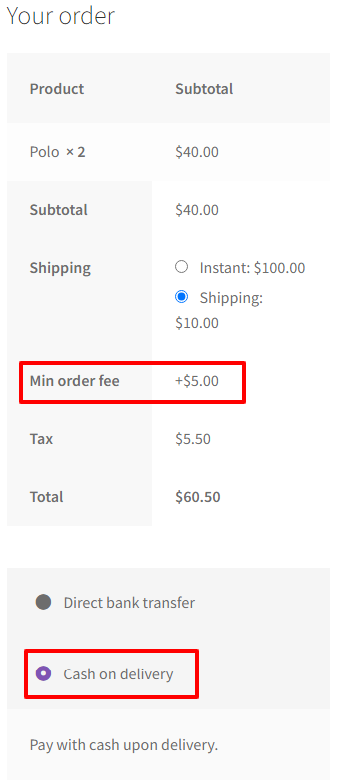 WooCommerce Payment Gateway Fees Conclusion
In this article, we have delved into the process of creating WooCommerce payment gateway fees and explored how to apply them to the cart effectively. By understanding the fundamentals of setting up payment gateway fees in WooCommerce, you can enhance your e-commerce store's financial management and provide your customers with transparent and accurate pricing.
Additionally, we explored various scenarios where applying payment gateway fees can be beneficial. Whether you want to pass on transaction costs to customers, implement surcharges for specific payment methods, or offer discounts for preferred payment methods, WooCommerce provides the flexibility to tailor the fee structure according to your preferences.
Let us know your feedback in the comments to help us improve the article.
FAQ
What are WooCommerce payment gateway fees?
WooCommerce payment gateway fees refer to the charges associated with utilizing payment gateways to process online transactions on your WooCommerce-powered e-commerce store.
What are transaction fees in WooCommerce?
Transaction fees in WooCommerce are the costs incurred for processing individual online transactions through payment gateways. They can vary based on the payment service provider used.
How can I manage WooCommerce payment gateway fees effectively?
To manage WooCommerce payment gateway fees effectively, you should compare fee structures of different payment gateways, consider fixed fees and percentage-based charges, and evaluate the overall value and support provided by each option.
Can I pass on transaction fees to customers using WooCommerce?
Yes, you can pass on transaction fees to customers by configuring your WooCommerce settings to add these fees to their total during the checkout process. This allows you to recover the costs associated with payment processing.
Can I offer discounts for certain payment options in WooCommerce?
Absolutely! WooCommerce enables you to provide discounts for specific payment options, incentivizing customers to choose preferred methods while promoting customer satisfaction and loyalty.